Meet Your Dog Trainer
About Ashley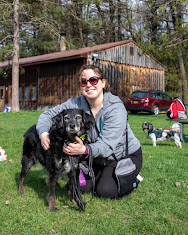 As a kid, I loved nothing more than spending time with animals, whether they were traditional companion animals or farm animals. Growing up in the country, we didn't teach our dogs much, and they didn't leave the property very often. Even so, I loved teaching my dogs tricks as a kid. I knew I wanted to work with animals when I grew up, but I had no idea that training dogs was an option.
While working traditional 9-5 jobs, I spent most of my spare time volunteering for rescues in some capacity or another. After a few years, I decided that leaving the 9-5 life was the best decision for me so I could devote more of my time to the animals that I am so passionate about.
Around this same time, I adopted my first dog. She was a ~7-year-old gal who was rescued from an abandoned structure in Puerto Rico. I soon discovered that life with a Sato was much different than anything I had experienced before. As far as we know, Roux had spent her entire life up until that point living on the streets. Dog beds were foreign to her and she had no interest in toys. Kibble was unappetizing and cats were terrifying. And she had no idea how to interact with her new humans, nor did she have any idea what we were asking of her at any point of time.
The timing of her adoption was perfect, because I was able to devote a lot of my time and attention to helping her adapt to her new life. About a month after adopting her, she started to show a fear of new people. She had health issues pop up and some strong anxiety around thunderstorms (she did live through several hurricanes, after all.)
How I fell in love with dog training
Many dog trainers get involved in the business because of their own dog, and I'm no different. While at first I was concerned with wanting to "fix" her issue with people, I came to understand that I could not change who she was fundamentally, but I could help her become more comfortable in her new environment. This is how i truly learned the importance of advocating for your dog.
One of the things I learned about Roux was that she seemed to feel a lot more relaxed and confident when she was with other dogs. Fostering was always part of my plan, and over fostering dogs for a few years, I had so many learning opportunities. Not only did I have the opportunity to work with dogs of different ages and circumstances, but I was able to assess the personalities of our fosters in relation to Roux. It didn't take long for me to figure out what I thought would work best for Roux – and despite the fact that I had always imagined adopting a male dog – I chose Olive as her perfect match.
As a very young and inexperienced super-mix of a herding dog (ask me for her Embark profile!) I've certainly faced my challenges with Olive. Regardless, working with a dog who is hyper-responsive and hyper-sensitive can be so gratifying, and I love the opportunities that she has given me.